For some reason, I love stories about couples who get married in stores. It strikes me as really funny to get all fancied up in wedding finery, and then head out to Waffle House [link: Waffle House Wedding], or, in this case, IKEA.
Julie Rodgers and Willie Pittman got married at the College Park, Maryland IKEA. They decided it was the ideal spot, since their first date took place at IKEA in 2010.
The two went to school together over 30 years ago, and reconnected via the magic of the Internet.

They really do look happy and adorable
When Rodgers initially planned out her wedding, she just planned on sharing a few meatballs and taking pictures. However, when she contacted IKEA and told them her love story, they offered her space at the store for no charge. Additionally, the store decided to throw in linens, chairs, and food.
IKEA helped the couple put their special day together in the store's restaurant.
About 25 guests filled the restaurant area of the store.

The ceremony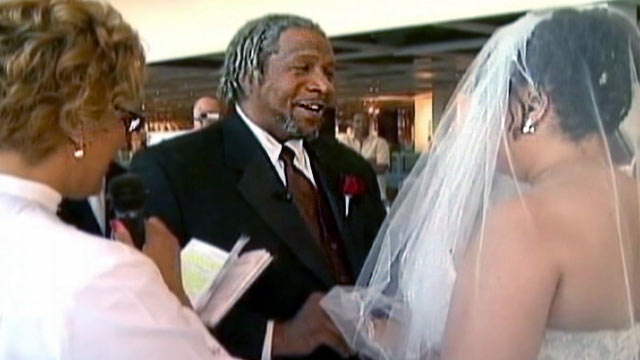 The wedding was held April 17, 2012

The happy bride

The groom has such a great smile
Aw, I love these stories! They make my grinch heart grow three sizes too large.
-KB